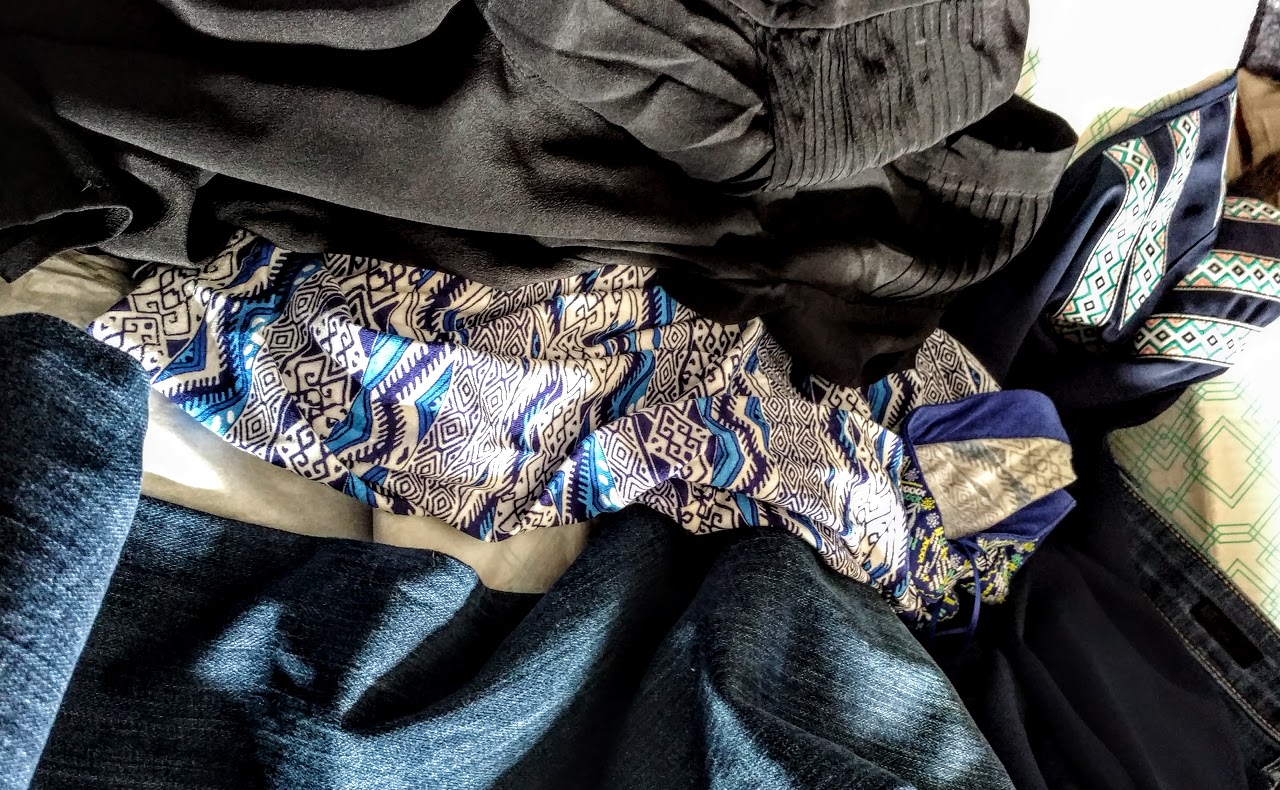 Blue. So much blue. Behold my initial thoughts in opening up my first Stitch Fix box. In all honesty, I'm not the biggest fan of blue – I'm a bit more of a green girl but I signed on to this to try new things right? Ok. Blue. I can do blue. I mean, why not?
*sigh*
#1 Cost:
Before I even looked at the individual pieces themselves I made a box bee-line shuffle to find the invoice. I was not going to fall desperately in love with something only to end up completely heartbroken upon seeing the price tag. Nope. Not this girl. Not gonna happen. It's kind of like when you're about to go on a date with a guy you've only just met – you shamelessly lurk them on social media first to see just what you might be getting into. Keep your guard up, do your research, and with a little luck there will be no surprises. Just as one protects their heart, one must also protect their bank balance. With everything I had heard about other women getting boxes filled with things WAY out of their budget and way above what they designated to Stitch Fix that they felt comfortable paying, I was not going to get screwed.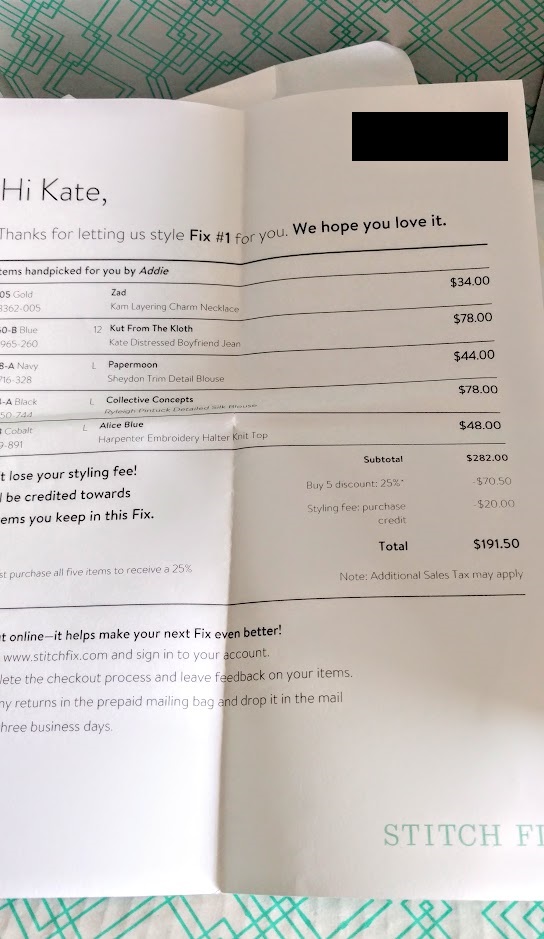 Okay not too bad. Could be better, could be worse. $78 is a lot for a blouse, but I might be willing to spend that on a good pair of well fitting jeans. $34 is also kinda steep for jewelry, but I'm open to it.
A few things I really liked was that they included the item's brand, name, and size on the invoice. That way you know exactly what you're getting. If you happen to fall in love with something, you can easily look and see what else the brand offers online. Or, you know, you can always do a quick and easy google search to see if you can get the exact same item cheaper elsewhere (just remember to factor in the $20 you already paid, and the convenience of already having the item in your hand).
I gotta say it was also nice to see just how much I could save by purchasing all 5 items printed right there on the invoice. Five items, $191.50 total is $38.30 a piece – still a bit much for jewelry but pretty good for everything else.
#2 The Products: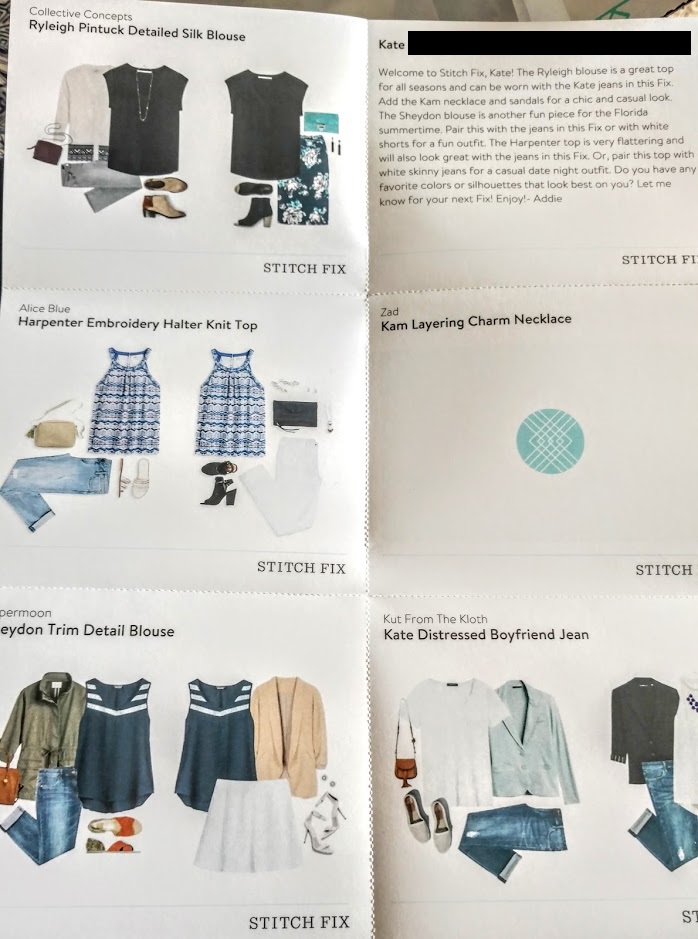 Every Stitch Fix box is supposed to send you 5 items. For my first box, I received 3 tops, 1 pair of jeans, and a necklace. Everything was beautifully packaged and to top it all off there was a handy dandy sheet insert with a little blurb explaining just why my stylist selected these items for me and ideas as to how to wear them. Score! For the fashion-challenged, or just anyone really who is looking to give off that super polished look, this how-to insert is a mega plus!
What surprised me even more, was that the short blurb mentioned that some of the pieces were specifically chosen for me because I live in Florida which is notorious for its brutally hot summers (and this one is sure as hell no joke). The fact that they took into consideration where I live when choosing the pieces, and specifically the fabrics, they sent me just makes the whole thing feel so much more personal which is exactly what they are going for.
Zad – Kam Layering Charm Necklace: Always the quickest and easiest thing to try on, and therefore the first. The necklace they sent me was a three chain layered necklace that didn't immediately strike me as anything special. It felt a little cheap, and definitely over priced but I put it on anyway and then something happened. The more I wore it, the more I wanted to keep it. It's like all of a suddenly I was Bilbo struggling over the One Ring or something. In the end the strength of the necklace wore out my resolve and the tags came off, making it mine forever. Retailing at $34 minus the styling fee/$20 credit it only cost me an additional $14 which I could live with.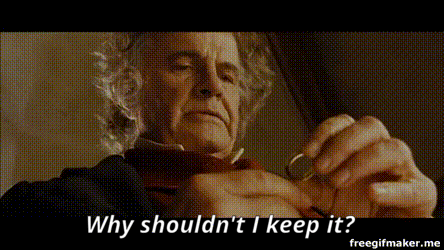 Kut from the Kloth – Kate Distressed Jean: Given that the remainder of my box was a series of blouses, the time had come to bite the bullet and put on the pants. I'd never heard of the brand before and while the price tag was again kinda steep, it wasn't completely unreasonable provided they fit exceptionally well. And they did. They really did. To be more specific, they fit like a god damn glove – and so soft. Even my boyfriend liked them and he could usually care less how I look. The craftsmanship was superb and for the first time in my life, I felt like I could actually tell the difference between low and high-end jeans.
Keeping these on throughout the rest of the trying on process was not going to be a problem.
Collective Concepts – Ryleigh Pintuck Detailed Silk Blouse: Black. Finally a color I can get behind! Despite its $78 price tag, there was still something about it that just felt like home. While the cut was okay, the material felt cheap which is definitely not something you want when spending so much on something. Ultimately it's hard to spend even half of that much money on a blouse that I already have a million different versions of. It did have some nice detailing along the shoulders and the borderline sweetheart neckline wasn't terrible. Ultimately though back it went.
Alice Blue – Harpenter Embroidery Halter Knit Top: So fun fact. I am not a crazy print kind of person. Crazy prints mean attracting attention, and while I have plenty of friends who love attention, put every single aspect of their lives on blast – I am not one of them. If you want to find me, you'll have to look in the furthest corner of the least populated room of a party to find me – or better yet, check my apartment. Yeah, in the event of a party, you'd probably stand the best chance of finding me at home on the couch, binge-watching some show or in bed reading a book. I'm even the kind of person who pops the microwave door open before the timer goes off because I think it's so obnoxiously loud it alerts all the inanimate objects and potential ghostly spirits of the underworld to my presence. I might be crazy, but at least I'm aware of it.
Aside from the crazy blue print, and what the cut out said about it being super flattering, it really just wasn't. I will say however that the quality felt really great which really just made it more heartbreaking that it didn't work out. I feel like it's also important to note that out of everything I received, this particular top was exclusive to Stitch Fix; meaning even if I did like it, there would be no chance of finding it elsewhere cheaper.
Papermoon – Sheydon Trim Detail Blouse: Words cannot describe how much I wanted to love this blouse. Yes, it was blue, but navy blue is okay in my book – especially with my red hair. The southwestern aztec-like accents along the shoulders and neckline gave it just enough detailing to really stand out. It felt fairly well made, not as well as the halter but still a quality I could be proud of to hang in my closet with the rest of my wardrobe. I could see it now – it could tell jokes with my coats and listen to all the travel stories my shoes were just itching to tell, and most importantly, it could stay bestbuds with the jeans it arrived with and maintain a friendship to the end of time. I couldn't break up this pair could I?
Sadly it was not to be. The cut was just not for me. I have one of those bodies that looks hella awkward in pretty much anything and everything that doesn't have a scoop, boat, cowl, or DEEP v-neck neckline. Even then, boat necks can add more weight to my arms and some cowl necks don't swoop down low enough. Maybe it's the fact that I'm fairly small chested, or some other weird freakish body thing that prevents me from wearing other necklines, I've never quite figured it out – so no I'm not a slut, I just know what doesn't look good after dressing my own body for the past 26 years. Unfortunately my coats, shoes, and new jeans were just going to have to find something else to be bestfriends with.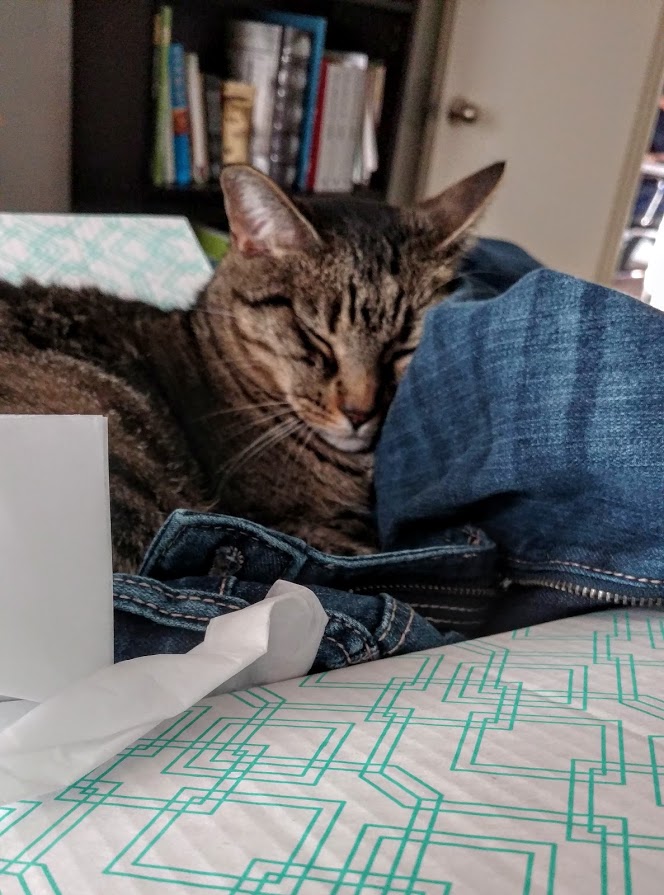 #3 Shipping and Packaging:
After years of online shopping, I've learned that it's always safe practice just to assume that a package is arriving on the latest estimated date. This saves pacing, endlessly checking for tracking updates, and just general anxiety riddled behavior. When it came to my first Stitch Fix box, I was estimated to receive it somewhere between July 1st-3rd, and it came July 1st. Nothing puts that extra bounce in your step quite like getting a package earlier than you thought you would (yet another reason for my latest-estimated-date rule). ***Side note: If your cat finds something he/she finds irresistibly cozy in your Stitch Fix box, you should take the cat's suggestion and keep the damn thing. Thank you Lilah for your valuable input.
#4 Customer Service: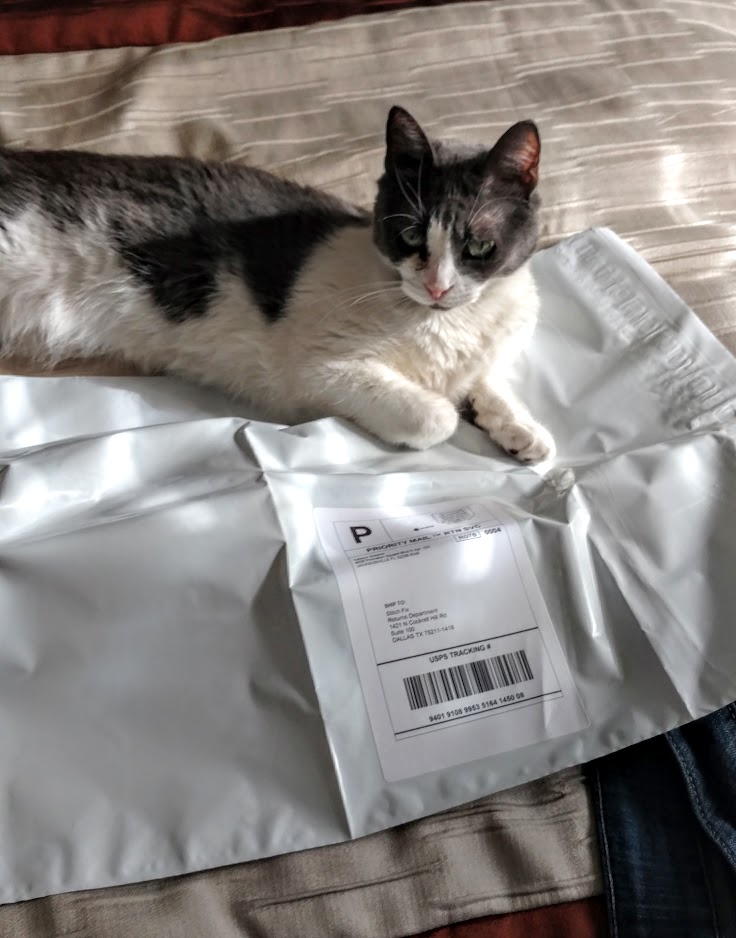 I have to admit I was a little apprehensive about the return shipping process. First I gotta find a box. Where is the return label? Is there a return label? What time does the post office close? Anxiety. I can't explain why, but I've always had this irrational fear reaction when it comes to thinking about returning something by mail. Crazy I know, but still. And while Stitch Fix did not send a rep to personally pick up my rejected items, they did make it as easy as possible to lessen my anxiety and make the process go a whole lot smoother than the mess I envisioned in my head.
Inside the box was a neatly folded (yay!), pre-labeled garment shipping envelope thing. (Note to self: Keep cats from poking holes in return shipping bag with nails, teeth, or both. Damn it Stella). Post trying on, I folded the items to be returned as neatly as I could manage and slipped them carefully in the bag trying to include as much of the original packing materials as was salvageable. I sealed it up, and it was ready to go. Even the box itself was a how-to return guide which I thought was both clever and convenient!
Final thoughts: While I wasn't that big of a fan of the contents of this box, I did end up coming away with a few new things to add to my wardrobe (the Kut from the Kloth jeans and Zad necklace). Better yet I can say that I've already worn these items out and about and am still every bit as in love with them today as I was on day one. As for my dreams of the perfect ensemble for the 4th, unfortunately my plans fell through so ultimately no killer outfit was necessary.
Overall for a first box, the contents weren't too bad – just unfortunately not for me. After the checkout process and being completely 100% honest and forthcoming with my reviews of the items (yes, you get to review them!), I decided to up my social game and start pinning the hell out of outfits I found on Pinterest. Supposedly your stylist will take your boards into consideration when pulling things for you so I've decided to test it. And since the last thing I pinned to my "My Style" board was nearly a year ago, I've got some serious pinning to do!
If you want to follow my My Style board on Pinterest for inspiration or curiousity, you can find it here.